Dilly Dally Gally and Harbour Master Suites is thrilled to announce that we have officially reopened after temporarily closing due to minor damage from Hurricane Idalia. We've never felt more nestled in the heart of our resilient island community than we have these last few weeks, and we're more than excited to welcome you back. Each day more businesses are reopening and preparing for your return to our island. We all look forward to seeing you very soon!
The Dilly Dally Gally in Cedar Key, FL
The Dilly Dally Gally gift store is located on the first floor of Cedar Key's Harbour Master Suites, on historic Dock Street.. Anchored by an antique English oak carved bar, Dilly Dally Gally is the hub of activity both for suite reservations and shop purchases. Also, there is a staff versatile and accommodating to all visitors. One common goal is shared: to serve customers with courtesy and respect so they'll return to the Harbour Master and its Dilly Dally Gally- as well as to Cedar Key- again year after year!
The little seaside retailer has a unique charm all its own. Enter, and the five senses are tickled- but must be tamed- as final selections are purchased after a lengthy wander around this shopper's eden! Beauty, whimsy, humor and inspiration all combine in this surprise find down on Dock Street.
It's a fact that no female can resist the allure of the gorgeous purses carried there- all in myriads of hues and textures, styles and sizes.
Wafts of scented Yankee candles-exclusively in Cedar Key at the Dilly Dally Gally -suggest botanical, home comfort and coastal-esque fragrances paired with lovely seasonal candle accessories.

Only to be found in Cedar Key, specifically within the Harbour Master and designed by its owner, are the Cedar Key woven afghans which feature the little towns' best-loved, renown landmarks and sights.
A visit to this village, reminiscent of Old Florida, can be remembered via a fantastic selection of fashionable Cedar Key t-shirts for all ages. The selection is deemed by a frequent guest as "the best selection on the Gulf Coast."
Velvety concoctions for head-to-toe slathering lie inside Dilly Dally Gally, as three skin care fragrances come to the rescue of summer-parched or winter-worn skin.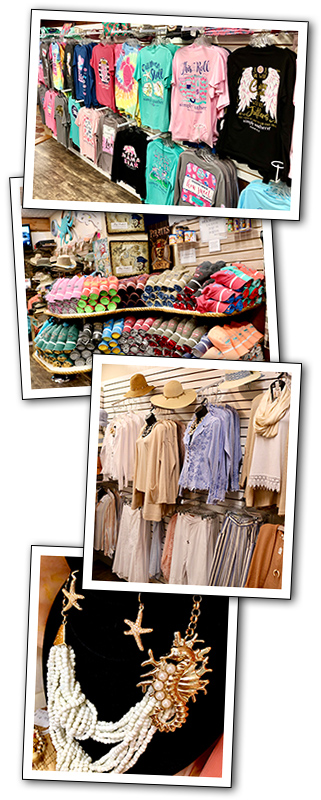 Chocolate….what else needs to be said? A mouth-watering supply -with or without nuts- extends a gourmet line, even including sugar-free items!
Bauble-lovers, beware! Dilly Dally Gally always has a well-stocked fashion jewelry chest for every age and taste, just as jewel-toned glass birdfeeders-made from recycled glass- leave one susceptible to the "buyers bug."
For those second thoughts upon a return back home, shipping is available for almost all merchandise at the Dilly Dally Gally. Call within business hours, 9 am to 8 pm, seven days a week and one of the friendly sales associates will gladly assist with "second-to-none" personal service. (352) 543-9146 or (352) 543-9320